ATM Cards
A First Federal Savings ATM card enables you to withdraw cash, transfer funds or check balances from any of First Federal Savings' ATM locations. Not near one of our locations, no problem! As part of Maine Cash Assess you have 199 fee free locations to choose from.
MasterMoney® Debit Cards
MasterMoney® debit cards are an enhanced First Federal Savings ATM card. Use your MasterMoney® card at millions of locations that accept MasterCard debit cards such as stores, restaurants, supermarkets, travel agencies, hotels, airlines, etc. Your purchases are withdrawn from your First Federal Savings Checking/NOW account.
In addition, since your MasterMoney® is "an enhanced ATM card", you can use it at any First Federal Savings ATM or thousands of others displaying the NYCE, ACCEL and PLUS network logos.
Please contact us if traveling outside the US to ensure uninterrupted service to your MasterMoney® Debit Card.
Maine Cash Access
And with our participation in Maine Cash Access, we provide you with access to 199 ATM's FEE FREE all over the state!
How to Apply
Print our ATM / Debit Card Application and stop by any First Federal Savings location, or call our customer service department at (207) 442-8711 for more information.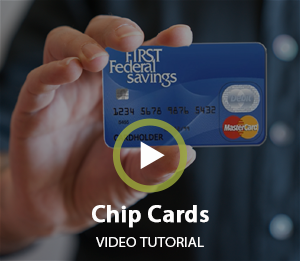 General Questions
207-442-8711
Monday-Friday 9am to 4pm
Lost/Stolen Card
Report Lost or Stolen Card or Ask Questions
Within the U.S.  1-833-221-8637
Outside the U.S.  1-614-564-5105
Card Transactions
Initiate a Dispute for Fraud or Non-Fraud Transactions
1-833-221-8638