My Cards
Get the First Federal Savings mobile app* that gives you the ability to actively manage your First Federal Savings debit card usage by defining when, where and how your debit card is used.
Greater Card Protection
Our card controls offer more protection than ever, allowing you to turn your debit card on or off and limit transactions by amount, location, merchant, and transaction type. You can report lost or stolen cards from the app and receive real-time alerts when your debit card is used, approved or exceeds the transaction controls set by you.
Enhanced Insights
Our handy list of subscriptions and who has your card on file gives you a clear picture of where your money is going. Easy to read graphs make understanding your spending habits simple, and details such as merchant names, logos, and contact information give you greater insight into your card transactions.
Ultimate Convenience
Add cards to digital wallets, get cash without your card, easily set travel plans to ensure your card is not declined, and even access your new card before receiving it in the mail. Plus, self-service options give you 24/7 assistance without calling a service number.
Get Started
If you are new to Mobile Banking*, simply search for First Federal Savings & Loan in your app store to download our Mobile Banking app today or click here!
Once loaded, simply tap "My Cards" to access all the exciting features.
Check out our video to learn more.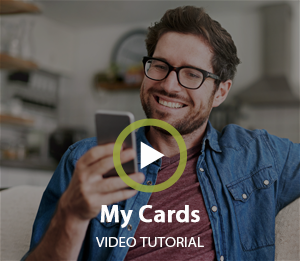 *Must be enrolled in Online Banking to use our Mobile Banking App.
Click HERE for more information.