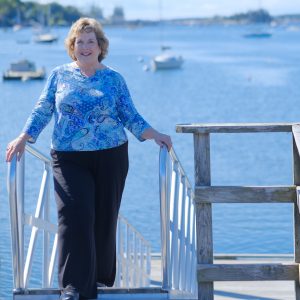 Jean Huber is Vice President at our Boothbay Harbor Branch. She wears many hats; as the Loan Officer and managing the bank's independent investment program for all of First Federal Savings.
Midcoast Maine has been home for Jean her entire life. She started her professional career as a paralegal, a common component of many of her colleagues at the bank. She took this knowledge and started her own small business with five employees, doing research for local attorneys and building what proved to be a foundational skillset for helping prospective homeowners navigate their real estate transactions.
Jean has been in banking for more than 20 years, spending the duration as a manager, financial advisor, and loan officer. Customers at our institution have come to expect more from their bankers and Jean is the perfect example representing why. She is a trusted advisor with experience investing, purchasing homes, and owning and operating a small business. The value she has to offer as a partner is above and beyond the norm and what we at First Federal Savings and have come to realize is what our customers need.
Anyone living in the Midcoast region can appreciate how unique the place we call home is. The folks that we call customers also have unique needs and First Federal is one a kind when it comes to our approach for meeting these unique needs. We work closely with our customers to ensure we understand what they're trying to do and how we can help pave the path to help them reach their goals. When asked why she chose First Federal Savings, Jean mentioned how the bank gives back to the communities it resides through each unique transaction with customers, but also the time and support the institution offers to community organizations. Jean is incredibly involved, as member on the Boothbay Harbor Rotary Club, and a former board member of 7 Rivers Habitat for Humanity, the Lincoln Home, and the Town of Wiscasset's Planning and Appeals Boards.
If you're looking for an adviser to help you meet your goals, give us a call in Boothbay Harbor at 207-633-2660. We'll make time for you.