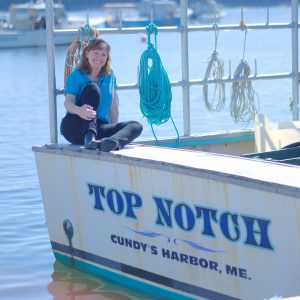 The more First Federal bankers you meet, the more you realize the volume of experience we cumulatively hone as bankers and as residents in Midcoast Maine. Melissa Kindlimann is no exception, calling the Bath area home for her entire life.
If you are local, then your experiences are probably a lot like Melissa's. As a child she spent her time helping various family members; some days were spent on the farm while others were building forts in the woods or out on the lobster boat. She spent a lot of time at the Brunswick Naval Air Station with her Grandparents who were both retired Navy. She is also no stranger to BIW, with a parent that still works there today and one that just retired. She's a proud second-generation Morse-alumnus, moving onto the University of Maine at Augusta for post-secondary education.
Melissa's track record in Real Estate is impressive. Before coming to First Federal Savings, she spent time as a realtor, and helping a local attorney reviewing Titles and both preparing and conducting closings. The bank hired her as a Loan Officer 11 years ago because of prior work with Charlotte, our Wiscasset lender. This combined experience provides for a great partner for any homebuyer. Melissa has vast experience in, quite literally, every aspect of the Real Estate transaction process.  She has also owned 10 homes in the past 21 years. One was a flip house.  The other 9 she lived in, renovated, and sold, except for her current home.
We asked Melissa why she chose First Federal Savings – She mentioned that throughout her homeownership projects she had worked with a few different institutions and is familiarized with the secondary mortgage market. When she came to First Federal Savings it was her first experience with a portfolio lender (the bank partners with you for the life of your loan, we don't sell it). She felt like the process was so much easier both as a lender and as a borrower, no hoops to jump through, and a meaningful relationship ensued. She was hooked. She loves the opportunity to learn the story that comes with a new customer – Their plans, their needs, their struggles, and their goals. Melissa shared that working here she feels like she matters and so do our borrowers.
If you want to find a banker that understands what it's like to be in your shoes and bring value beyond what you think you need today – Come meet Melissa at our Wiscasset branch or call us at 207-882-6266. We'll make time for you.